Globe Viewer Mars
GlobeViewer Mars is an interactive and three-dimensional display of the entire surface of Mars. The globe rotation view provides an overview of all the existing designations for various surface features. If you are interested in a particular region, an even higher resolution 3D map view can be loaded to take a closer look at the craters, grooves and other features.
Download the GlobeViewer Mars app here:
New in Version 0.4.0: Perseverance landing site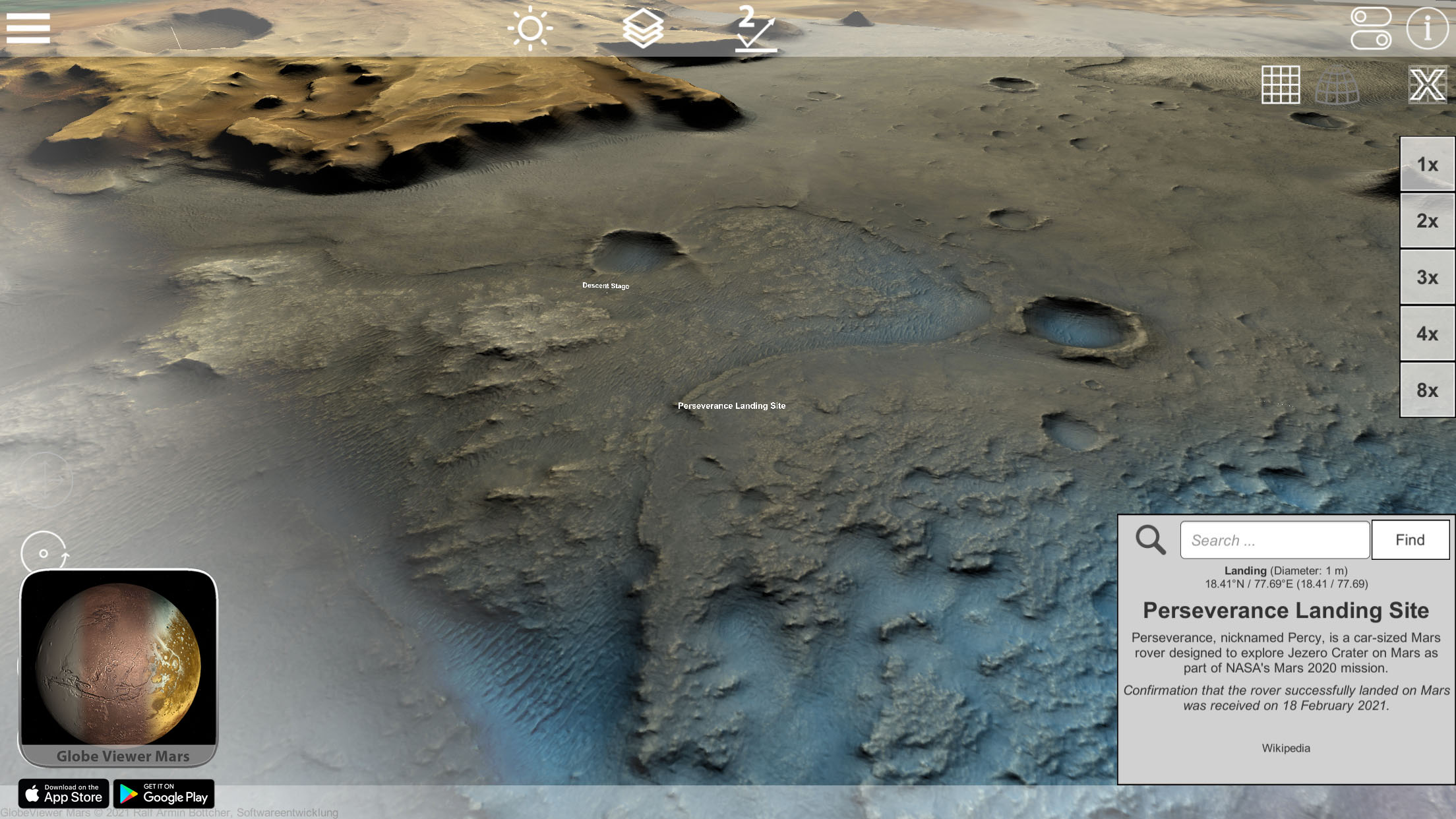 With the new version we show the landing region of NASA's Mars2020 mission. The landing site of the rover Perseverance was made possible by using HiRISE data from the Mars Global Observer. Here you can see the surrounding area of the rover. In addition, you can increase the heights in the 3D map in order to get an even better impression of the height gradients. Take a quiet look at the surroundings. As soon as the rover starts moving, we will mark the route on this map.
Mars maps
There are four map modes available (elevation display, photo illustration, a combination of both and the gray color mode). In addition, surface details (normal maps) have been obtained from the elevation data for the display, which can be combined with all map modes. Even the smallest craters, elevations, grooves and gorges are visible on the map.
Lighting
The lighting in the 3D map view is designed so that the light can be directed into the craters from all directions. This serves to improve the visibility of height structures and is not intended to represent the real lighting situation. Realistic lighting that includes the ecliptic was also dispensed with in the globe view in favor of the visibility of the polar regions.
Feedback
The app will receive regular updates in the future - this way, user feedback should flow into further development. If you have any suggestions or ideas for further functions in the app, please contact us using the contact form on our website. We are looking forward to your feedback.
Reviews
Blog "Exploring astronomy & space apps and Google" from

"These incredible works are the best planetary globes for Android."
"The Moon and Mars look gorgeous in GlobeViewer Moon and GlobeViewer Mars. I'm spending more and more time playing with the apps to explore these worlds. Mind-blowing."